UK
Details

Written by

Andrew Chuter

Category: UK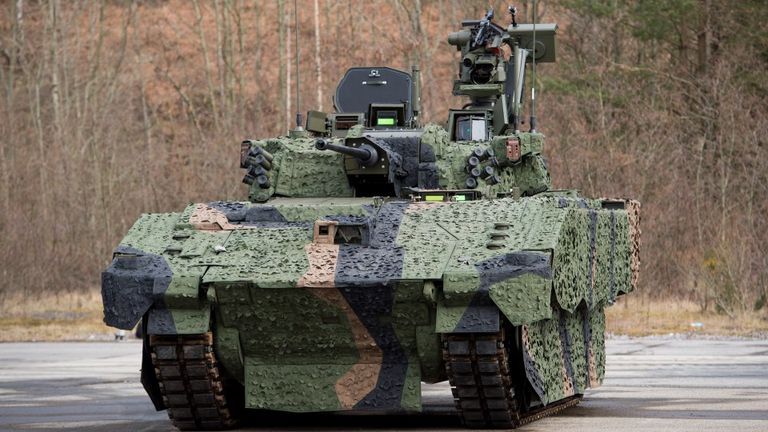 British Army attempts to modernize its armored fighting capabilities have taken a new hit with reports that the General Dynamics UK-built Ajax reconnaissance vehicle has encountered significant design problems. British newspaper Daily Telegraph cited a leaked document outlining issues such as excessive vibration, which had required the Army to impose speed restrictions on the vehicle and limits on the time crews could operate them.
Details

Written by

Ross Kelly

Category: UK
Experiments with AI have been conducted before. However, this marks the first time AI applications have been tested against live missiles. The Royal Navy has revealed its first use of artificial intelligence technology during operations off the coast of Scotland. During a NATO training exercise off the country's west coast, a Royal Navy destroyer, HMS Dragon, tested AI known as Startle and Sycoiea against a supersonic missile threat.
Details

Written by

Naval Technology

Category: UK
Rolls-Royce has won a contract from the UK Ministry of Defence (MOD) to provide support MT30 and R-21 marine engines that power two major Royal Navy programmes. This contract will enable the company to deliver 'on-going support' for MT30 engines installed on Queen Elizabeth Class (QEC) Aircraft Carriers and WR-21 marine engines on Type 45 destroyers. The latest contract will run through 2026.
Details

Written by

Andrew Chuter

Category: UK
Britain has confirmed it will acquire 14 Boeing-made Chinook helicopters, but the government has prolonged the delivery schedule over the next decade years due to budget issues. The deal was made through the U.S. Defense Department's Foreign Military Sales process and will see Britain pay £1.4 billion (U.S. $2 billion) for the helicopters and associated equipment. Deliveries are scheduled to start in 2026 and be completed in 2030.
Details

Written by

Jacob Bentley-York

Category: UK
BRITAIN'S next fighter plane could be armed with lasers designed to zap hypersonic missiles out of the sky. Sixth generation warplanes dubbed "Tempest" are being developed by Britain in a joint effort between the Royal Air Force and Italian Air Force. General Enzo Vecciarelli, Italy's military chief of staff, suggested the plane will "probably be the future" when it comes to defending against hypersonic weapons.
Details

Written by

Christopher Furlong

Category: UK
Britain plans to cut the size of its army and boost spending on drones, robots and a new "cyber force" under defense plans announced by the government on Monday. Defense Secretary Ben Wallace said the British Army would shrink from 76,500 soldiers to 72,500 by 2025. He said the army hadn't been at its "established strength" of 82,500 for several years.
Details

Written by

Reuters

Category: UK
Britain said it would spend 6.6 billion pounds ($9.1 billion)over the next four years on research and development to help drive a technology overhaul of its military capabilities. Laying out its post-Brexit foreign policy priorities on Tuesday, Britain said it would invest the new funds into developing technologies in space, cyber, quantum technologies, engineering biology, directed weapons and advanced high-speed missiles.
Details

Written by

Mirage News

Category: UK
Spearfish torpedoes – which use sonar to home in on targets – are carried by the Royal Navy's Astute class and Trafalgar class hunter-killer submarines and the nuclear deterrent Vanguard class to neutralise underwater and surface threats. While Sting Ray torpedoes are deployed on Anti-Submarine Warfare mission, including frigates, Merlin and Wildcat helicopters.
Details

Written by

UDI SHAHAM

Category: UK
Elbit Systems UK, a subsidiary of Israel's Elbit Systems, has been awarded a $166 million contract by the UK Ministry of Defence for the Royal Navy Future Naval Training Program, Elbit Systems announced Monday. The contract is for 12 years, it said. The program calls for the transformation and modernization of the shore-based training of the Royal Navy, including the establishment of the Future Submarine School.