Boeing
Details

Written by

JOSEPH TREVITHICK

Category: Boeing
The U.S. Air Force has announced the first step toward making its Skyborg system a reality. This program, which the service revealed last year, aims to develop a suite of systems that will form a single artificial intelligence-driven "computer brain" that would be able to fly future low-cost "loyal wingman" type drones, which would work together with manned aircraft, and potentially fully-autonomous unmanned combat air vehicles, or UCAVs.
Details

Written by

Rob Verger

Category: Boeing
The US military's most futuristic and problematic fighter jet is the F-35, a very expensive aircraft that costs the Air Force around $82 million a pop. Exorbitant price tags like that, and other considerations, are spurring aircraft makers and air forces to think about ways to augment the fighter jets they have—planes flown by people—with smaller aircraft that have no one on board.
Details

Written by

Garrett Reim

Category: Boeing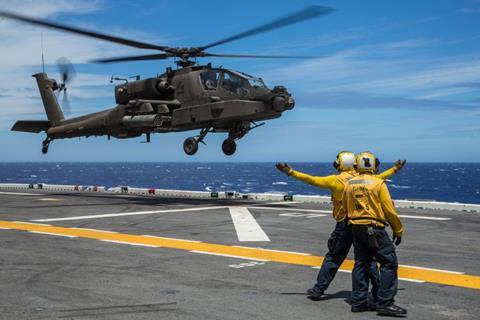 The US Army is to start receiving the Version 6 hardware and software update for the Boeing AH-64E Apache attack helicopter in August. Boeing says it has already delivered the update to one international customer, though it declines to name the nation. The update improves the AH-64E's maritime and unmanned air vehicle (UAV) targeting abilities, among other enhancements.
Details

Written by

Naval Recognition

Category: Boeing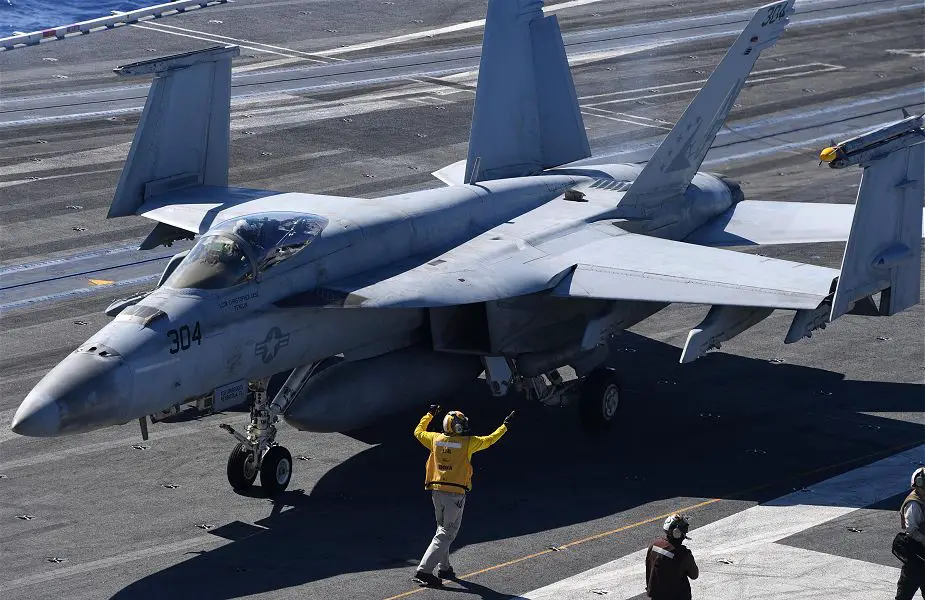 Since 2005, F/A-18 Super Hornet Block II aircraft have been rolling off Boeing's production line and serving as the U.S. Navy's multi-mission capable workhorse. The service took delivery of the final Block II Super Hornet, closing out a run of 322 one-seater F/A-18Es and 286 two-seated F/A-18Fs, on April 17, 2020. The US Navy F/A-18 E and F Super Hornet maritime strike attack aircraft, manufactured by Boeing, flew for the first time on November 29, 1995.
Details

Written by

Anthony Capaccio

Category: Boeing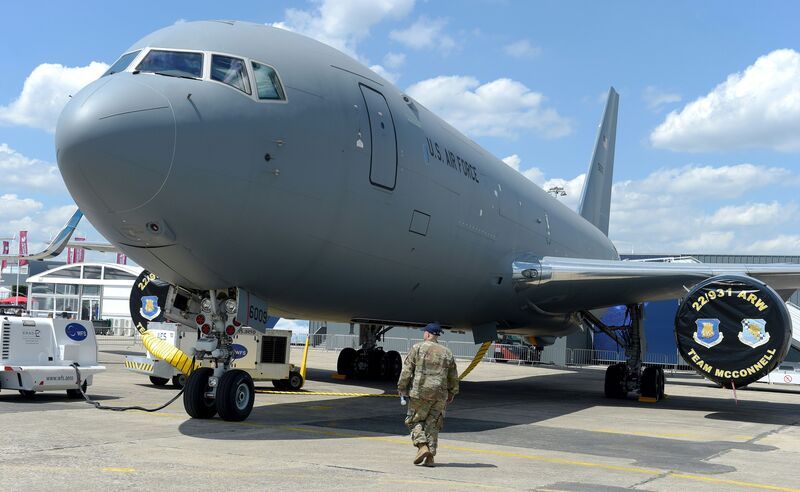 The Air Force's top military officer says he's convinced that Boeing Co. finally has a solid plan to fix the flawed refueling system that has bedeviled its $44 billion aerial refueling tanker program. "There were some engineering design flaws" in the original Remote Vision System for the KC-46 tanker that have "taken us far too long to resolve," General David Goldfein said in an interview.
Details

Written by

Iain Rogers

Category: Boeing
Germany will order 45 fighter aircraft from Boeing Co. to replace the Luftwaffe's aging Tornado jets, Der Spiegel magazine reported on Sunday. Defense Minister Annegret Kramp-Karrenbauer emailed her U.S. counterpart Mark Esper on Thursday to inform him of the decision, the magazine said, without identifying the source of its information. Germany will order 30 F/A-18 Super Hornets and 15 EA-18G Growlers, the report added.
Details

Written by

Press Release

Category: Boeing
Boeing [NYSE: BA] successfully completed the first flight of the F-15QA fighter, the most advanced version of the jet ever manufactured. Developed for the Qatar Emiri Air Force (QEAF), the jet demonstrated its next-generation capabilities during its 90-minute mission. The flight took off and landed from Lambert International Airport in St. Louis.
Details

Written by

Press Release

Category: Boeing
The second of three releases of Boeing Defence Australia's Project Currawong battlespace communications system was completed this month with the Commonwealth signing off on the System Acceptance Audit for Release 2. Comprising significant software and hardware components, Release 2 includes the deployment of the External Network Access Point (ENAP) which, for the first time, allows the Australian Defence Force (ADF) to securely communicate using untrusted, public networks, such as the internet.
Details

Written by

Ed Adamczyk

Category: Boeing
Boeing Co. restarted production of the P-8 and KC-46 military planes on Monday after a two-week shutdown caused by coronavirus concerns. The company closed all its operations indefinitely in Washington State's Puget Sound region on March 25, but reopened its Renton facilities to build P-8 surveillance planes and its Everett plant, which builds the KC-46 tanker.