Cyber Australia
Details

Written by

Computer Daily News

Category: Cyber Australia
An inquiry into the Security Legislation Amendment (Critical Infrastructure) Bill, has been told the Australian Signals Directorate needs wide-ranging powers to enable it to effectively manage the growing threat of cyberattack on Australian entities. Spy agency chief Rachel Noble (pictured) has cited an unnamed company's refusal to work with the government when responding to a cyberattack as evidence of the need for laws.
Details

Written by

Shannon Jenkins

Category: Cyber Australia
Major commonwealth departments will offer cyber services to smaller government agencies through three Cyber Hub pilots, according to employment minister Stuart Robert. In an address to the Australian Financial Review Government Summit on Wednesday, Robert noted that some agencies "cannot compete for skills and resources in the marketplace".
Details

Written by

Defence Media

Category: Cyber Australia
Australian organisations need to take further action and follow updated advice from the Australian Cyber Security Centre (ACSC) and Microsoft to patch vulnerable Microsoft Exchange systems. Assistant Minister for Defence, the Hon Andrew Hastie MP, said it is critical that newly identified vulnerabilities are addressed to avoid having Microsoft Exchange email software systems compromised by adversaries.
Details

Written by

Roya Ghodsi, ADM

Category: Cyber Australia
Defence contractor ASC is undertaking a digital transformation of its critical business systems to set the ground for its digital shipyard transition. ASC - formerly the Australian Submarine Corporation - says the comprehensive digital program will facilitate more streamlined processes, enhanced integration between systems, and the expanded use of real-time data to drive optimised decision-making across the organisation.
Details

Written by

Asha Barbaschow

Category: Cyber Australia
Head of the Australian Cyber Security Centre (ACSC) Abigail Bradshaw has told senators "10s of organisations" have so far reached out to her agency regarding vulnerable Microsoft Exchange servers. "We have had feedback from 10s of organisations who have spotted the indicators of compromise and whom we've assisted," Bradshaw said...
Details

Written by

Army Technology

Category: Cyber Australia
Australian Assistant Defence Minister Andrew Hastie has urged citizens to use multi-factor authentication (MFA) for enhanced cyber protection. The call for use of MFA follows a roundtable discussion that outlined its importance. MFA is a cybersecurity measure that requires users to prove their identity with at least two or more pieces of evidence to gain access to online information and accounts.
Details

Written by

FRANCIS GALBALLY

Category: Cyber Australia
Australians should not be under any illusion. The risk of cyber attack at a personal, government and corporate level poses a security threat greater than any Australia has experienced. It is far greater than we faced during the darkest period of the Cold War in the mid-1950s. We are today at war again. A cyber war.
Details

Written by

Defence Media

Category: Cyber Australia
The Morrison Government is continuing to strike back against offshore cybercriminals who are conducting COVID-19 related malicious activities, through an operation being led by the Australian Signals Directorate (ASD). Minister for Defence, Senator the Hon Linda Reynolds CSC said ASD remains on the front foot when it comes to protecting Australians from malicious cyber activity.
Details

Written by

John Davidson

Category: Cyber Australia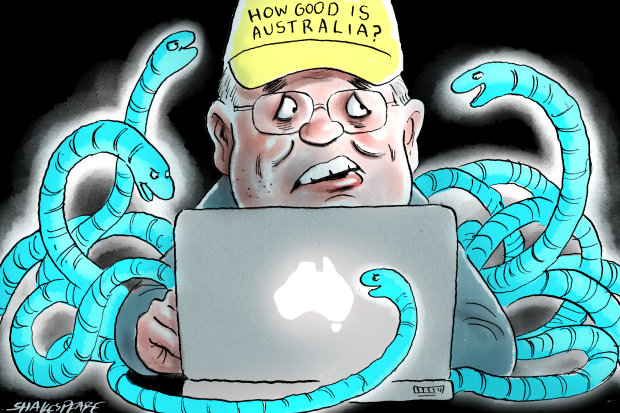 Australian government departments are dramatically under-investing in their own cyber security, to the point where they could be making themselves easy targets for criminal and state-based hackers, a report has found. Compared to private enterprise, government departments are investing less than half the money per employee on securing their technology and data, and would do well to "clean up their own house" before they start imposing tough new cyber-security requirements on the private sector, the report's author said.