Navy
Details

Written by

Lieutenant Commander Ryan Zerbe

Category: Navy
Apart from an MH-60R helicopter, HMAS Ballarat also carries an S-100 Schiebel Camcopter, an unmanned aerial vehicle that offers enhanced surveillance capability at sea.
A small detachment from 822X Squadron at the Royal Australian Navy's Fleet Air Arm is conducting trials with the 3.1-m long rotorcraft as part of Exercise Talisman Sabre (TS21).
Details

Written by

David Crowe and Anthony Galloway

Category: Navy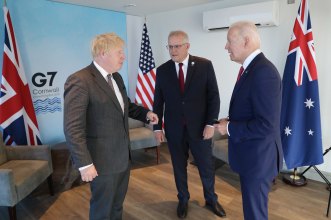 "British Prime Minister Boris Johnson, Australia's Prime Minister Scott Morrison and US President Joe Biden meet at the G7 gathering in Cornwall on Saturday. " />Australian frigates will join a British carrier strike group in naval exercises in the Indo-Pacific in a show of strength against China as the world's wealthiest democracies vow to confront Beijing's economic coercion. Prime Minister Scott Morrison discussed the deeper military co-operation with United States President Joe Biden and British Prime Minister Boris Johnson in a meeting — on the sidelines of the Group of 7 summit in Britain...
Details

Written by

Naval Technology

Category: Navy
HENSOLDT Australia has overhauled the first of the Royal Australian Navy's (RAN) Canberra Class vessels' identification Friend or Foe (IFF) system antenna and pedestals. The company is under contract to repair and perform deep level maintenance of four antennas and pedestals. The HENSOLDT facility already supports the IFF interrogator for the RAN and Royal Australian Air Force (RAAF).
Details

Written by

Sasha Karen, ARN

Category: Navy
Dell has scored a $7.1 million contract with the Department of Defence for a hardware refresh for the Royal Australian Navy. The contract, which lasted from 15 April to 14 May, saw Defence purchase hardware from the vendor to the tune of $7,109,125.10 to replace old technologies with unidentified devices. The purchase comes as part of the Fleet Information Environment (FIE) modernisation project, a major overhaul of the IT equipment on the Navy's ships worth $600 million, which was announced in April 2019.
Details

Written by

South Coast Register

Category: Navy
Sikorsky Australia, which has a base at the Albatross Aviation Technology Park, south west of Nowra has been awarded a $10 million contract by the United States Navy to provide additional support to the Royal Australian Navy's fleet of MH-60R Romeo multi-mission helicopters. The contract for the sustainment for Australia's fleet of 24 Romeo helicopters, based out of HMAS Albatross, is delivered locally in Australia through a Foreign Military Sales (FMS) agreement with the US Navy, providing opportunities for Australian defence industry.
Details

Written by

Naval Technology

Category: Navy
French company ECA Group has signed a memorandum of understanding (MoU) with Australia's Total Marine Technology (TMT) to jointly bid for a Royal Australian Navy (RAN) programme. The two companies will partner to combine their expertise in unmanned technologies and place a joint offer to RAN, which seeks to bolster its maritime mine countermeasures and military survey capability using unmanned systems.
Details

Written by

Navy Recognition

Category: Navy
According to information published by the Facebook account of Scott Morrison, the Prime Minister of Australia, on May 6, 2021, the Australian government decided to upgrade the HMAS Cairns with a $155m investment. HMAS Cairns is a Royal Australian Navy (RAN) base located adjacent to the Trinity Inlet on the shore of Trinity Bay in Cairns, Queensland, Australia.
Details

Written by

Naval Technology

Category: Navy
The Royal Australian Navy's (RAN) Hobart-class guided missile destroyer (DDG) HMAS Sydney has conducted a successful evolved sea sparrow missile (ESSM) firing. Conducted off the coast of Southern Californian Exercise Area, the first-time firing was carried out as part of its combat systems sea qualification trials. The missile launch was announced on Twitter by Australian Fleet commander rear admiral Mark Hammond.
Details

Written by

Josh Spires

Category: Navy
The Australian Navy could soon be using helicopter drones to keep an eye on things, as it furthered Project Sea 129 earlier this week. The Australian Navy has shortlisted companies into the next round, with Northrop Grumman and Leonardo Australia being chosen. The two companies will work together to develop a single system that utilizes Leonardo's AWHERO helicopter drone and Northrop Grumman's command and control center.